Curriculum Vitae
by Alexandra Hebbelmann
Though there were countless numbers of people being maligned, persecuted and deported under the National Socialist rule, Erna de Vries' story is yet a special one: She is one of the few women who have witnessed the Death Block 25 in Auschwitz-Birkenau and survived. This touching story is what we would like to present at the next few pages.

Childhood and youth in Kaiserslautern


Night of Broken Glass


Apprenticeship in Cologne


Deportation and detention in Auschwitz-Birkenau


Detention in Ravensbrueck and liberation


Post-War-Period in Cologne and Lathen

Night of Broken Glass
The pogrom on November 9./10, 1938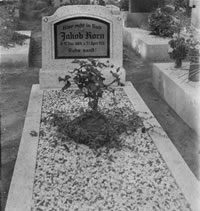 The grave of Jeanette Korn's husband Jakob in a Christian cemetery in Kaiserslautern. This is where Erna and her mother sought shelter from the infuriated mob during the Night of Broken Glass on the day of November 10th, 1938. (Picture: Private property, 193x)
The Night of Broken Glass which leaves Jewish property and synagogues destroyed does not take place in Kaiserslautern until the early morning of November 10th, 1938. The Korns are woken up and warned by a former employee who has seen the destruction on his way through town, but yet Erna goes to work at the usual time.
One hour later the employees are ordered to line up in front of the building. All Jewish employees are to step forward. Fearing for her mother Erna Korn does not comply with the order but runs home directly. The family seeks shelter at the Christian cemetery where Erna's Protestant father is buried, hoping they won't have to watch their house being destroyed. After a short while Erna can't help but going home against her mother's will. She arrives there the very minute the house is being wrecked. The family is ordered to leave Kaiserslautern by the same evening, but already at the end of November Jeanette Korn returns to recondition the house, Erna follows her at Christmas.
Gallery
| Night of Broken Glass (4 pictures)