Curriculum Vitae
by Alexandra Hebbelmann
Though there were countless numbers of people being maligned, persecuted and deported under the National Socialist rule, Erna de Vries' story is yet a special one: She is one of the few women who have witnessed the Death Block 25 in Auschwitz-Birkenau and survived. This touching story is what we would like to present at the next few pages.

Childhood and youth in Kaiserslautern


Night of Broken Glass


Apprenticeship in Cologne


Deportation and detention in Auschwitz-Birkenau


Detention in Ravensbrueck and liberation


Post-War-Period in Cologne and Lathen

Apprenticeship in Cologne
Beginning of 1939 – July 1943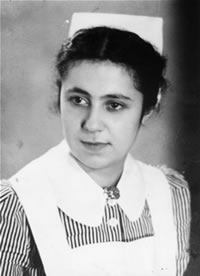 Erna de Vries in her work clothes as a nurse in Cologne, 1942. By this time she was working at the "Israelitisches Asyl" in Köln, aiming at being a doctor later.(Picture: Private property, 1942)
After a short time in Kaiserslautern Erna Korn returns to Cologne to receive an apprenticeship as a housekeeper at a Jewish nursing home for one year. Yet she hasn't given up on her dream to be a doctor so that she keeps asking to be allowed to become a nurse at the 'Israelitisches Asyl', a big Jewish hospital. Since the matron considers her to be too young she isn't accepted as a student nurse until 1941, but is first sent to an old woman as a nurse and lady's companion.
This is about the time Erna realizes, after a first group of Jews from Kaiserslautern has been deported to Auschwitz via Gurs in France shortly before, that she might be separated from her mother. Striving to get back to Kaiserslautern she asks the local Gestapo for permission after the matron has found herself unable to let her go on leave for a few weeks. While thinking about a possibility to stay together with her mother and yet be able to complete her apprenticeship, she learns that the hospital has been disbanded. All Jewish patients and employees have been taken to Fort Müngersdorf, a transit camp, from where they are deported to various extermination camps a few weeks later.
Erna does not carry out her plan to complete her apprenticeship in Frankfurt since her mother refuses to leave Kaiserslautern. As she later learns, the hospital there is disbanded as well some weeks later in August 1942 – she has escaped a deportation the second time. Taking employment at an iron foundry nearby gives her the opportunity to work and be close to her mother at the same time.
Gallery
| Apprenticeship in Cologne (2 pictures)